What is 'Legal as a Service' (or LaaS as we have dubbed it) and why it could help your business grow. 
The rise of 'as a service' products and services has become a popular business model in recent years.  We are used to logging into widely used SaaS platforms such as Xero or Salesforce, but the concept of 'as a service' can also extend to cover other important business functions, such as your legal department.  We're calling it 'Legal as a Service'. 
Using 'Legal as a Service' in your organisation may be a really smart business decision which can save you money, provide expert advice and help you focus on your core activities.  In this post, we will discuss the top reasons why your organisation should consider using 'Legal as a Service' (LaaS) 
Cost Saving 
Outsourcing your legal services can be a cost-effective solution.  By taking advantage of lower overhead and headcount costs, you can save money on legal expenses. Our packages are designed to fit your budget and there are no lengthy contracts, HR disputes, NI, pension funds or other unforeseen costs.
Expertise 
'Legal as a Service' gives your organisation access to a wider variety of experienced and highly qualified legal specialists in their (and your) fields. Instead of one all-rounder, you now have access to various specialists at partner level.
Flexibility 
'Legal as a Service' allows your organisation to tailor our services to your specific needs and budget.  You can choose from our packages to get the support and options that best fit your needs and you also get to 'try us out'.  Just like the other SaaS products you pay for monthly, there is no lengthy (or costly) commitment. Our packages allow upgrades and 'bolt-ons' so you can adapt the amount of legal support you need as your business grows and changes.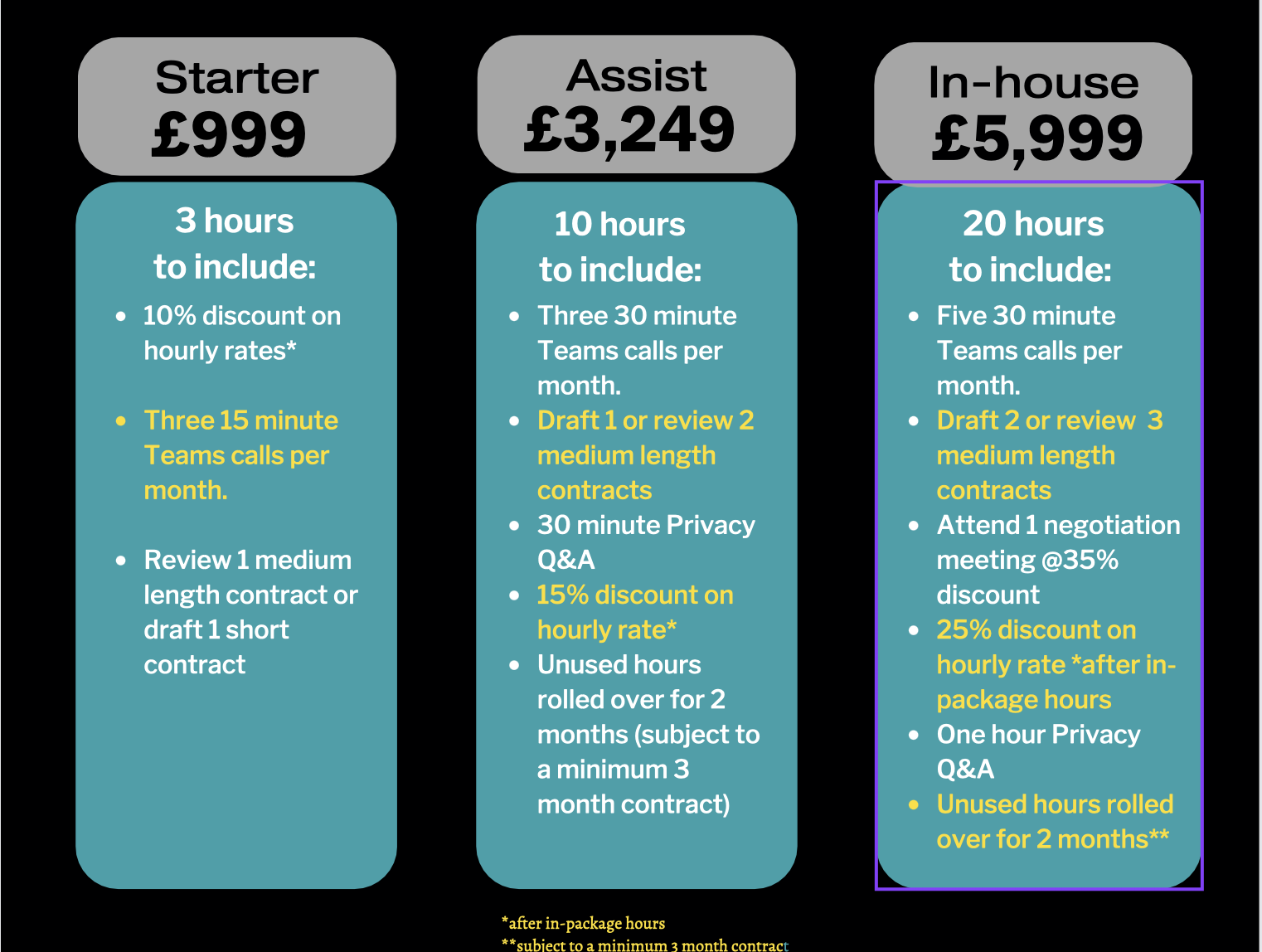 Focus on your core business 
By outsourcing your legal team, you can devote more time and resources to growing your business and know that your LaaS in-house legal team are in control of the legal issues.  You focus on your core business while we handle the legal work.
Scalability 
Using Ethiqs as your 'Legal as a Service' allows you to choose the services that best fit and scale with your needs. You take as little or as much depending on your requirements, and because sometimes you'll need that bit extra, you can take advantage of a bespoke package which is just right for you.
In conclusion, outsourcing your in-house legal team to Ethiqs 'Legal as a Service' is a smart and strategic business decision that will help your business thrive. 
Get in touch today at info@ethiqs.legal if you would like to discuss which 'Legal as a Service' package is best for you. It's a free consultation.  Use the term 'LaaS' when booked.  We look forward to speaking to you!